There used to be a popular saying years ago - at least amongst the quilting world - "Asking a quilter to mend is like asking Van Gogh to paint the garage..." When the word "mend" looms - "Z"ippers immediately come to mind and the head is filled with dread and loathing...replacing a zipper is a task not for the faint of heart and around our house, the rule is...two times only on a single jacket - the 3rd time and it's out! Lately, the 2nd time is stretching things somewhat...
The zipper is a 19th century invention...Elias Howe applied for a patent in 1851 with his invention the "automatic, continuous clothing closure." He did not pursue this for whatever reasons - maybe he was too busy with something called a sewing machine...
In 1893, Whitcomb Judson came out with a "Clasp locker" and he is officially credited with being the "Inventor of the Zipper." This image is rather gruesome, don't you think? Reminds me of the edges along a circular saw blade and not something I would want attached to clothing...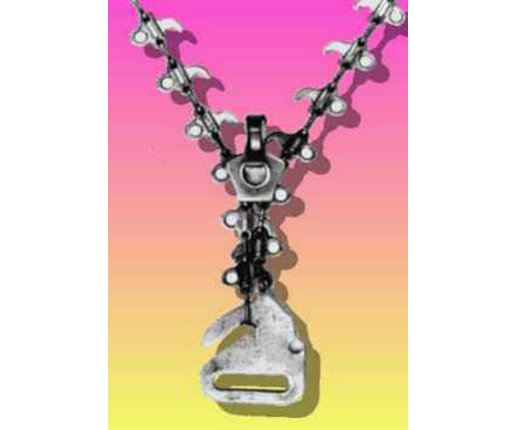 For more information check out -
http://inventors.about.com/library/weekly/aa082497.html
Today's zippers have a far different look to them - smooth, easily opened and closed in a fluid motion (most of the time if they don't get hung up on a lining!) and in an array of colors that numbers in the 100's+ Now you can buy a zipper and cut off what you don't need for installation -
...that is what I did when assembling these 4 sewing notion boxes that were given as gifts.
Zippers will never be my favorite thing to "mend", replace or install...but when they work well, they sure make life a little easier...
And that is the very last letter in Alphabe-Thursday over at Jenny Matlock's. Visit all the other "Z" postings this week! This has been such fun. It has been a nice opportunity to "meet" other bloggers and see what they are up to. It has also provided a challenge to tackle different subjects each week - things I might be familiar with but perhaps taking a different approach and best of all, learning something I didn't know about before. I joined in midway through so if Miss Jenny starts this up again I will be ready to jump in with the letter "A" - pretty sure I all ready have a word picked out!
Wishing each of you days of smoothly operating zippers..........
:o)